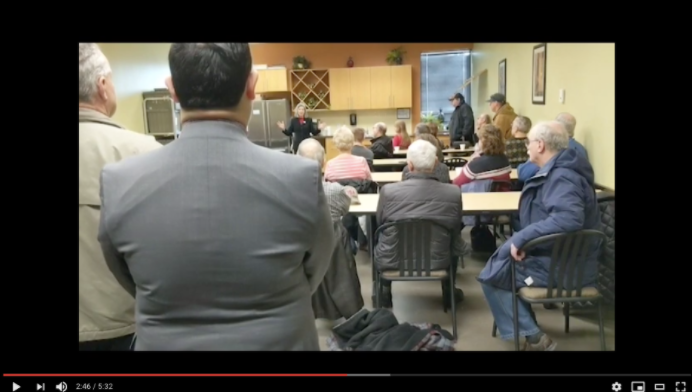 At the time, Senator Ernst had been receiving private coronavirus briefings for over a month – yet when presented the opportunity to inform constituents of preventative measures they could take to stem the disease's spread, Ernst put politics over the healths of Iowans.
Rather than serve as a voice for Iowa hospitals and communities bracing for the crisis, Senator Ernst let fly the Trump Administration's dangerous mismanagement, leaving Iowans without the testing and equipment needed to manage this crisis:
Iowa has only conducted just over 2,100 coronavirus tests out of its three million residents, resulting in 105 positive cases. Meanwhile, Senator Ernst refuses to oppose the lawsuit to end the Affordable Care Act, even as it ensures COVID-19 testing is covered by insurance.
Iowa Starting Line: Video: Early On, Ernst Praised Trump Response, Chided Dems
By: Pat Rynard
March 22, 2020
As more scrutiny is aimed at what some Senate Republicans were saying about the coronavirus pandemic behind closed doors early on in the crisis, a video obtained by Starting Line offers up a look at how Iowa Sen. Joni Ernst discussed the initial stages at a private campaign event with Iowa voters. While meeting supporters in Muscatine in late February, Ernst praised President Donald Trump's preparations, calling his early actions "the absolute right thing" and "absolutely appropriate," and that overall he "has done quite well." She also blamed Democratic leaders for trying to "stir up panic."
Around that same time in late February, it was becoming increasingly clear that preparations for the virus' spread in the United States was going to be lacking. As

many news outlets were already reporting

, the CDC had problems with the test they were developing to detect the virus, which was setting back the country's preparations. "I think that the response by the administration has been absolutely appropriate," Ernst added later.

Ernst later compared aspects of it to the flu, suggesting general hygiene precautions would help protect many people. "It's tricky because we don't understand the coronavirus," Ernst said. "We don't understand it, but it is still — it's the flu. It is a variation of the flu. So what we have to do is make sure that we are washing our hands. I mean, it's so simple folks.

At one point, Ernst pushed back against criticism over the Trump Administration's oversight of the CDC and funding levels. "So under Republican leadership, we've actually increased funding to CDC and the NIH," Ernst said. 

What Ernst also fails to mention is that she herself voted against several appropriations bills that allocated funding to the CDC (

HR 244

,

vote

;

HR 1625

,

vote

), though those were very large pieces of legislation that incorporated many subjects.

Finally, Ernst slams Chuck Schumer and Nancy Pelosi over their criticism of Trump, suggesting they've blamed the coronavirus itself on Trump and are now attempting to spread panic. "I mean, you're going to see Chuck Schumer strike, and Nancy Pelosi," Ernst said. "Basically they've said that the coronavirus is the fault of the president … And now, they're the ones trying to stir up the panic, yeah."