IDP Unveiled Three New Dark Money-Tied Fundraisers – Including One Scheduled for Today – Hosted by Consultant at Center of Illegal Scheme, An Arrangement With Sole Mission to Boost Senator Ernst's Re-Election
Today, Iowa Democratic Party Chair Mark Smith unveiled a new slate of evidence showing ongoing illegal coordination between Senator Joni Ernst and Iowa Values – a dark money group set up and run by her top aides – in the exact same arrangement made public months ago by the Associated Press.
In a press call with End Citizens United President and Executive Director Tiffany Muller and State Representative Jennifer Konfrst, Chair Smith made public invitations to three new fundraisers for Senator Ernst, all organized by the shared dark money fundraising consultant at the center of the illegal scheme. 
This includes a fundraiser with the same dark money consultant scheduled to happen today.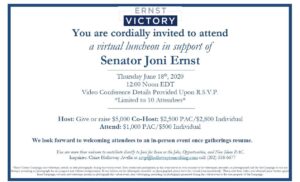 Dark Money-Tied Fundraising Invitation 1 – June 16, 2020
Dark Money-Tied Fundraising Invitation 2 – June 18, 2020
Dark Money-Tied Fundraising Invitation 3 – June 30, 2020
Senator Ernst has failed to answer or explain any of these critical questions on her illegal dark money scheme:
Did Senator Ernst direct her top political aides to set up and run Iowa Values?

Will Senator Ernst call on Iowa Values to immediately end its illegal effort to boost her campaign, including paid ads and GOTV activities?

Will Senator Ernst call on Iowa Values to disclose its donor history, and how many potential dark money donors did she introduce to Iowa Values?
After campaigning on the broken promise to clean up Washington corruption, Senator Ernst's undeniable, ongoing ties between her campaign and Iowa Values are further proof she's leaning on unlimited, undisclosed dark money to win re-election. The illegal arrangement has sparked nearly half a dozen FEC and IRS complaints for breaking the law.
Iowa Democratic Party Chair Mark Smith: "This is the clearest instance of dark money abuse I've seen from an Iowa politician – and Iowans see it as nothing short of plain-as-day political corruption. Despite the serious legal and ethical concerns, Senator Ernst has refused to break off her relationship with the dark money consultant. Senator Ernst needs to take responsibility – and she owes Iowa voters real answers explaining her role in the illegal formation of this dark money group."
End Citizens United President and Executive Director Tiffany Muller: "Senator Ernst's dark money arrangement is a degree of illegal activity that stands out for it's brazen disregard for the law. Iowa Values is a vehicle to raise and spend unlimited, undisclosed money to re-election Senator Ernst and buy her a senate seat for another six years. Senator Ernst must immediately make public the full breadth of the coordination, and be held accountable for her serious breach of trust."
State Representative Jennifer Konfrst: "Senator Ernst's continued ties with Iowa Values show that she's leaning on an illegal scheme with a dark money group to keep her seat – and hoping Iowans won't notice. Ridding dark money from our elections is something that Iowans of all political backgrounds agree needs to get done. But Senator Ernst is more focused on empowering these dark money groups who are trying to help re-elect her, instead of reforming a corrupt system that corrodes free and fair elections."