Ernst Defends Her Spread of Misinformation, Provides Greater Opening for Debunked Conspiracy Theories to Cast Doubt on the Virus
After nearly a month in "hot water" for saying she was "so skeptical" of COVID-19 cases and deaths, Senator Joni Ernst doubled down on her spread of dangerous misinformation in an interview with the Omaha World-Herald published Sunday. The comments come as the U.S. has surpassed 200,000 deaths and Iowa faces one of the worst outbreaks in the nation.
Instead of apologizing to health care workers in the interview, Senator Ernst claimed that Iowans need "clarity" in how cases and deaths are "being collected and how it's being portrayed" – coded language that spreads false doubt on the toll of the coronavirus. Ernst also provided a greater opening for conspiracies to run amok, saying, "It's out there, though, that there are concerns." 
Health experts have warned that Ernst's conspiracy theories could lead Iowans to take the pandemic "less seriously" and result in further outbreak.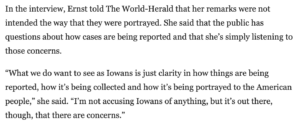 Senator Ernst's doubling down on her conspiracy theories comes amid growing pressure to publicly apologize for insulting frontline heroes, a step that Ernst told the Iowa Medical Society she wasn't prepared to take. Ernst has also repeatedly refused to answer questions on new audio of President Trump admitting he purposely misled the public on the severity of the virus, after Ernst repeatedly defended the President's failed response.
"Senator Ernst's continued embrace of debunked conspiracy theories that downplay the health crisis shows that she is unequivocally unfit to represent Iowans," said Jeremy Busch, Iowa Democratic Party spokesperson. "Senator Ernst promised Iowans that she'd be different, but what voters got was a Washington politician so desperate to cover up her failed response to the pandemic that she would spread misinformation that puts more lives at risk. This scandal is not going away, and Senator Ernst owns the consequences of her dangerous actions."
Iowans are holding Senator Ernst accountable for her reckless disregard of the pandemic. A new Des Moines Register poll found that Ernst's pandemic approval rating has flipped since June and is now underwater at 38% approval, 41% disapproval.
Medical and infectious disease experts – spanning from the U.S. Surgeon General to leading health care groups – have universally condemned Senator Ernst's spread of misinformation, calling her comments "insulting," "offensive," and "dangerous." Editorial boards across Iowa have published scathing rebukes, including the Ottumwa Courier calling Ernst "unfit to serve Iowans."