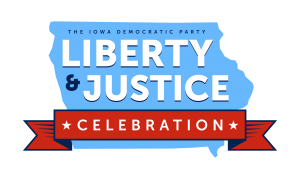 Welcome to the Online Hub for the Liberty & Justice Celebration! 
Friday, November 1, 2019. Program begins at 6:30 PM CDT, Doors Open at 4:30 PM CDT
Wells Fargo Arena, 233 Center St, Des Moines, IA 50309
Get all the information you need to know ahead of the big day:
A limited number of Floor & Dinner Tickets are still available.
Click below to purchase tickets on the floor of the arena — you'll be served dinner and be right where the action is happening!
We can't wait to see you and these featured speakers in Des Moines!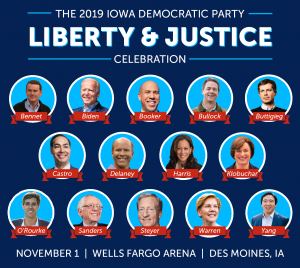 The speaking order for the featured speakers will be Mayor Pete Buttigieg, Vice President Joe Biden, Mr. Andrew Yang, Sen. Elizabeth Warren, Sen. Kamala Harris, Mr. Tom Steyer, Sen. Bernie Sanders, Sen. Michael Bennet, Rep. Beto O'Rourke, Sec. Julian Castro, Sen. Amy Klobuchar, Sen. Cory Booker, Rep. John Delaney, and Gov. Steve Bullock.
This was determined by a random drawing which happened on October 18th.