Senator Ernst Blames Others for Outbreak While Hypocritically Ignoring CDC Guidelines, Opposing a Statewide Mask Mandate, and Spreading Dangerous Conspiracy Theories
As a new Associated Press report today warns that Iowa's failure to enact a mask mandate could result in "significant preventable outbreaks," Senator Joni Ernst's face mask hypocrisy is once again in the spotlight.
For months on end, Ernst has lied to the media and voters, claiming that she wears a mask when she's "out in public" to "set that example." But photos and videos from her campaign events put her lies on display: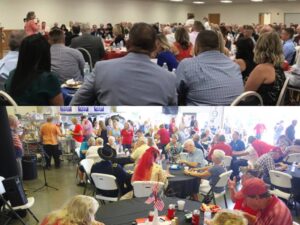 Top: Ernst at the Sept. 4 Pottawattamie County GOP Lincoln-Reagan Day Dinner.
Bottom: Ernst at the Aug. 7 Hardin County GOP Sweet Corn Feed
Over 1,200 Iowans have lost their lives to COVID-19 as "deaths rise" across Iowa, but that reality has yet to influence Senator Ernst's own conduct. Not only is she refusing to call for a mask mandate, but Ernst is refusing to apologize for spreading conspiracy theories that mislead Iowans on the dangers of the virus and undermine the lifesaving work of our frontline heroes.
Senator Ernst has even hypocritically shamed college students for "not following" CDC guidelines, despite her own reckless actions. And a now-deleted post from an Iowa GOP consultant shows Ernst once against at a crowded indoor campaign event without a mask.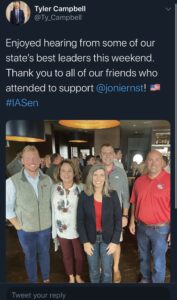 "Senator Ernst's hypocritical refusal to wear a face mask sets an irresponsible and dangerous example that could make Iowa's outbreak even worse," said Jeremy Busch, Iowa Democratic Party spokesperson. "Instead of behaving like an out-of-touch Washington politician by holding herself to a different standard, Senator Ernst should start taking this crisis seriously. That begins with apologizing for spreading conspiracy theories that downplay the virus, and joining Theresa Greenfield in calling for a statewide mask mandate and actually wearing a mask at events."