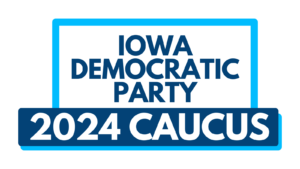 The Iowa Democratic Party Caucuses are now more accessible than ever. Iowa Democrats can cast their Presidential Preference by mail. To request a Presidential Preference Card, fill out the online form below or download a printable form, fill it out, email it or return it in the mail. 
Filling out the online form is the fastest way to submit your request. The last day to request a Presidential Preference Card is February 19, 2024. Preference Cards will be mailed out starting on January 12, 2024.
If you're interested in becoming a delegate, volunteering, or getting more involved in the Iowa Democratic Party, join us for our in-person
Iowa Caucuses on January 15, 2024.
We will be sharing caucus locations soon.
Questions? Call our helpline (515) 216-3893.
This helpline is monitored by Iowa Democratic Party staff and volunteers.
Please follow the instructions on the voicemail and we will do our best to return your call in a timely manner.
Accommodation requests for our in-person January 15, 2024 precinct caucuses must be submitted to accommodations@iowademocrats.org by January 2, 2024. Persons with vision impairment or other accommodation needs regarding our presidential preference cards can call our helpline or email accommodations@iowademocrats.org for accessible information and services. 
WHO CAN PARTICIPATE IN THE IOWA DEMOCRATIC PARTY CAUCUSES?
Only registered Iowa Democrats who are eligible to vote in the November 5, 2024 election may participate in our Caucuses. Iowans must be registered as a Democrat by February 19, 2024. Iowa law prohibits participating in more than one political party's caucuses.
What's changed about the Iowa Caucuses
?
Our new Iowa Democratic Caucuses will consist of two parts:
One part will be the mail-in expression of Presidential preference. Iowa Democrats will be able to request a presidential preference card through the mail or online. Please use the links above. The last day to request a preference card is February 19, 2024.
The other part will be our in-person precinct caucuses which will be held in person on January 15, 2024. The in-person precinct caucuses are when we will conduct traditional party business. We will elect unbound delegates and alternate delegates to county conventions, elect county central committee members and discuss platform resolutions that can be shared at county conventions. No Presidential preference will be taken at the in-person precinct caucuses. The results of the mail-in Presidential preference will be released on March 5, 2024.