The third-most unpopular senator in the country Senator Joni Ernst has worked for five years to repeal the Affordable Care Act, but the vital program is "more popular than ever" – leading to some tough confrontations in even some of the most conservative parts of Iowa:
SHOT: Senator Joni Ernst: "Obamacare was a health insurance bill, right? It allowed access to health insurance. And I wouldn't even say that it saved anybody money." [2.28.20]
CHASER: At a town hall in Greene County – which supported President Trump by over 23% – a farmer held Senator Ernst accountable on her votes to repeal the Affordable Care Act, arguing the program enables his son to gain insurance and saves Iowans thousands of dollars through preventative care including mammograms and colonoscopies.
LIME: After Senator Ernst backtracked with the outlandish claim that she's fought to protect ACA provisions, the farmer said, "I think she's a United States senator because she's a politician. She talks out of both sides of her mouth… She gives her vote to Mitch McConnell and the Republican Party, let them use it the way they want to use it."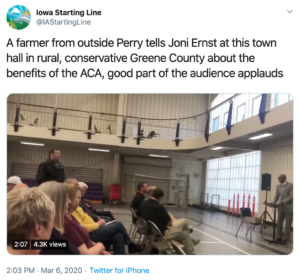 FACT CHECK ON THE AFFORDABLE CARE ACT:
SENATOR ERNST HAS VOTED TO MAKE HEALTH CARE MORE EXPENSIVE FOR IOWANS:
DESPITE CLAIMING THAT "WE ABSOLUTELY MUST PROTECT" PRE-EXISTING CONDITIONS, ERNST HAS VOTED TO GUT COVERAGE FOR PRE-EXISTING CONDITIONS:
Bragged about her "

courage

" to gut coverage protections for Iowans with pre-existing conditions.

Voted to defend

toxic "junk" insurance plans

that can deny coverage for pre-existing conditions, prescription drugs, and maternity benefits.

Refuses

to oppose the Republican lawsuit to end protections for pre-existing conditions.