New Site Sets the Record Straight on Ernst's Six Years of Broken Promises, Putting Corporate Special Interest Donors Ahead of Iowans
Today, the Iowa Democratic Party launched ElectionYearErnst.com – a one-stop-shop for voters to hold Senator Joni Ernst accountable for her six years of political corruption and failure to fight for Iowans in Washington.
Senator Ernst promised to "make Washington squeal" – but once she went to Washington, she put her special interest donors first. Ernst quickly fell into Washington's corrupt ways as a rubber stamp for corporate bailouts and Mitch McConnell's partisan agenda – no matter the cost to Iowans.
Now down in every public poll and facing a "toss-up" re-election, Election Year Ernst is on an emergency mission to rewrite her disastrous record and distract voters from her broken promises.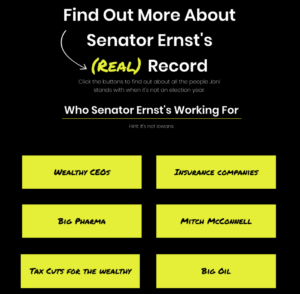 From bailing out Big Oil at the expense of family farms, to voting to kick Iowans off their health care, to blowing up the deficit to pad Wall Street profits, Ernst's six years have been nothing less than a pork buffet for corporate special interests feasting away at the expense of hard-working Iowans.
As Mitch McConnell's allies and Ernst's own illegal dark money group swoop in, spending tens of millions to prop up her campaign, ElectionYearErnst.com provides voters a resource to fact check the false ads and desperate record rewrites and fight back.
"Senator Ernst made Iowans a promise to cut big spending in Washington, but all she's done is send working families the bill for bailouts for Big Oil, Big Pharma, and the corporate special interests bankrolling her campaign," said Jeremy Busch, Iowa Democratic Party spokesperson. "As Election Year Ernst tries to rewrite her six years of failure in hopes of six more, the IDP's new one-stop-shop helps voters distill fact from fiction and hold Ernst accountable. The truth is, Iowans are sick and tired of their senator putting Mitch McConnell and corporate special interests first – they're ready for a new leader who will never stop fighting for them."
ElectionYearErnst.com is just the latest tool shining a spotlight on Senator Ernst's failed six years in Washington. In March, the IDP launched an ad campaign, "Making Iowans Squeal," holding Ernst accountable for shattering her signature campaign promise.