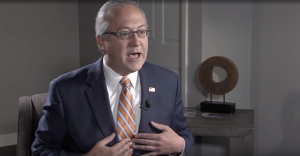 David Young is sticking to his playbook of lying to Iowans about his voting record in a recent interview. As a Congressman, Young had plenty of opportunities to protect coverage for pre-existing conditions. Instead, he used his position to win favor with corporations and play political games that threatened American's livelihoods. Iowans rejected Young's corporate agenda last year, and they won't let him run away from his disastrous record of voting against protections for pre-existing conditions.
See for yourself:
David Young says that he was a "leader" on pre-existing conditions but he voted to repeal the Affordable Care Act and take away coverage for Iowans with pre-existing conditions.
Young also voted for a GOP health care bill that would have gutted the ACA with no replacement — leaving thousands of Iowans in limbo about their health care.
Des Moines Register: "The AHCA would eliminate the individual mandate, setting people free to go without insurance and hope for the best. In addition, the bill cuts billions of dollars in services to the poor in order to fund billions of dollars in tax breaks for the rich; Robin Hood is not around anymore. The AHCA doesn't repeal the ACA, it uses the same basic structure."
Health care is consistently the number one issue among voters, and they trust Democrats more than Republicans to protect their health care.
Associated Press: "Overall, The Associated Press-NORC Center for Public Affairs Research poll finds that Democrats enjoy a 17 percentage point advantage over Republicans in Americans' assessments of whom they trust more to handle health care, 40% to 23%. That compares with a public more evenly divided over which party would better handle several other major areas of national policy, including the economy, immigration and foreign affairs."
The Trump Administration is ramping up efforts to dismantle the ACA with a lawsuit, making Congress a key backstop to protecting the health care law.
Washington Post: "President Trump renewed his vow Friday to repeal the Affordable Care Act, seemingly putting him at odds with a top Republican senator who insisted that Congress will not scrap President Barack Obama's signature health-care law."
Congresswoman Cindy Axne is a on a task force that's working to protect health care. And later this week, House Democrats will vote to guarantee coverage for Americans with pre-existing conditions.
KMALand: "Axne says one of the group's goals is to strengthen the Affordable Care Act. That includes blocking any attempts to remove provisions protecting individuals with pre-existing conditions."

Congresswoman Axne: "…one of the top things I heard from the providers was that diabetes was the number-one issue that we're facing. That's a pre-existing condition. If we're not protecting people in our communities, we're going to have a much unhealthier group of people. So, number one, making sure that we close that loophole, and that we always cover people with pre-existing conditions."
###